Hall of Fame Member Biographies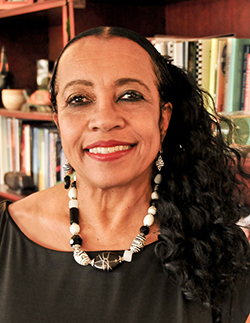 Belinda P. Biscoe
Modern universities and colleges now have many missions besides that of preparing students on its campuses to engage the world successfully in whatever fields they choose; they also have the objective of taking research and knowledge into communities to benefit all citizens. A national leader in this quest to aid local communities in their school programs, especially those designed to aid disadvantaged youths, is Belinda P. Biscoe of the University of Oklahoma (OU). For three decades she has performed heroically as an administrator, as a researcher, and as an advocate for reaching out to disadvantaged youths, families, and communities. She is truly a systems thinker who sees how concepts and ideas link together resulting in new learning and innovations.
Belinda Biscoe was born in Atlanta, Georgia, received her collegiate education at Fisk University, obtained an M.A. in Sociology in 1973, and then, as one writer noted, "by serendipity" came to Oklahoma where she earned her Ph.D. in Psychology in 1982 from the University of Oklahoma. Fortune certainly smiled on the state and people of Oklahoma when Professor Biscoe made that decision. She began her career working for the Oklahoma City Public Schools from 1983 to 1991 as a senior researcher, administrator, evaluator of programs, grant writer, and developer of programs for at-risk youths. She next founded and administered three organizations devoted to assisting troubled youths and families (Positive Tomorrows, Eagle Ridge Institute, and Higher Horizons). Her success attracted the attention of administrators at the University of Oklahoma College of Continuing Education where in 1997 she became the Operations and Program Director of the Region VII Comprehensive Center that sought educational advancement in the six states of Illinois, Indiana, Kansas, Missouri, Nebraska, and Oklahoma. In 2001 she then became Associate Vice President of Outreach at the College of Continuing Education, which included offering technical assistance on STEM programs, disability training and education, substance abuse prevention, American Indian education, at-risk youth programs, English language learners, continuing education for state employees, workforce development, and research and evaluation. Over ten states are included in her areas of responsibilities, and she now is the administrator of sixteen departments that employ approximately 500 people. At the same time she has been an adjunct professor in the Department of Human Relations and Advanced Programs at OU teaching courses in international relations, diversity in the workplace, and grant writing. That Professor Biscoe teaches a class in grant writing is a natural result of her unquestioned talent in submitting successful proposals to various agencies, especially the U. S. Department of Education. She has obtained during her years in Oklahoma grants totaling more than $120,000,000-she may indeed be the champion of Oklahoma grant writers.
In addition to this incredible record of administration, she has maintained an active interest in research. She has authored thirteen publications, two of them forthcoming. Her work in measuring resiliency has been widely adopted not only by faculty researchers but by practitioners nationally and internationally. In fact, she was in Egypt a week prior to the Arab Spring as a member of an international research team with Georgetown University. Professor Biscoe was asked to use her adolescent resiliency tool as one measure in a study on substance abusing youths in Egypt. During her visit she provided a lecture to Egyptian physicians and mental health professionals on her resiliency research. Out of the grants she obtained in the Early Reading First program was the publication Early Literacy Quick Assessment which is now used as a universal screening and progress monitoring instrument in early literacy. Besides her academic publications, she served as author/co-author of four films and video tape presentations, and three pamphlets on drug curricula training. As testimony to her expertise on program implementation and evaluation, Professor Biscoe has given over 100 papers on the topic across the United States and overseas. More recently, through one of her departments the Southwest Center for Human Relations Studies and in collaboration with the Center's director, Dr. Kathleen Wong, she is helping to launch, through their National Conference on Race and Ethnicity in American Higher Education, a new peer–reviewed journal, JSCORE, (pronounced Jay Score) the Journal Committed to Social Change on Race and Ethnicity.
Given this outstanding record of performance, it is to be expected that Professor Biscoe has been honored numerous times. In 1985 she was named as the "Outstanding Young Woman of the Year'' by the American Federation of Colored Women; in 1989 she received the Citizens Award for Outstanding Service in the War Against Crime and Drugs by the Coalition of Civil Leadership; was given in 1991 the Noteworthy Programs and Practices Award from the Southwest Regional Center for Drug Free Schools and Communities; earned the Leadership Award in Education in 1995 from Women in Communication; in 2004 obtained from the University of Oklahoma the E. Neal Stone Superior Performance Award; in 2005 she was chosen by the Journal Record as one of 50 women in Oklahoma making a difference; was the recipient in 2006 of the Adelle Robertson Award from the University Continuing Education Association; and in 2015 received from the Metropolitan Better Living Center of Oklahoma City the Oklahoma History Makers Award.
In recognition of Belinda P. Biscoe's service to the youth of Oklahoma, to the people of Oklahoma generally, and indeed to common education throughout the United States, the OHEHS with pride inducts Belinda P. Biscoe into the Oklahoma Higher Education Hall of Fame.