Hall of Fame Member Biographies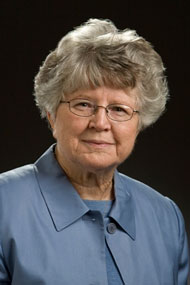 Beulah Hirschlein
Beulah began her higher education teaching career in the College of Home Economics (now the College of Human Sciences) at Oklahoma State University in 1970. For forty years she had the pleasure of teaching and advising undergraduate and graduate students, helping them to achieve success in their professional endeavors in family and child services and education. She has mentored 6 M.S. and 18 Ph.D. students who have accepted positions in major universities throughout the country and abroad.
As a portion of her responsibilities as a professor in a land-grant research institution, Beulah engaged in an aggressive outreach program focused on leadership and continuing education for educators and other practitioners in human development and family science related fields. She has served in over 16 national organizations and 8 Oklahoma associations involving family resource and development programs, often as an officer. She has been a member of 28-state task forces, boards, and committees. Beulah has been a keynote speaker, session presenter, and reviewer for numerous state, regional, and national organizations.
At Oklahoma State University Beulah authored grant proposals that were funded for planning and developing a statewide conference on aging, a Retired Senior Volunteer Program, a Stillwater Youth Volunteers in Action program, and activities offered under the auspices of the Bartlett Independent Living Laboratory. The Youth Volunteer Program evolved into the highly successful OSU Service Learning Center. In 1966, Beulah provided leadership for the establishment of the Oklahoma State University Family Resource Center, a program now administered by University Housing.
Beulah enriched her teaching through committed involvement in family and child services in the Stillwater area and the state of Oklahoma. Her influence was found in program development, direct service, and policy review and analysis. Instead of just teaching about child and family services she modeled active participation as a volunteer. Beulah encouraged each student to become an active, engaged volunteer in the professional field where he or she aspired to work.
Beulah's efforts have been recognized nationally, state, and locally. Among awards received are: American Association of Family and Consumer Sciences Leadership Award, Outstanding Civic Leaders of America, Home Economics Teacher of the Year, Oklahoma Home Economics Association Professional Award, Beverly J. Crabtree Public Affairs Award, OSU Volunteer Center Community Service Award, and OSU Faculty Award for Community Service Excellence.
The Oklahoma Higher Education Heritage Society proudly inducts Beulah Hirschlein in to the Oklahoma Higher Education Hall of Fame.