Hall of Fame Member Biographies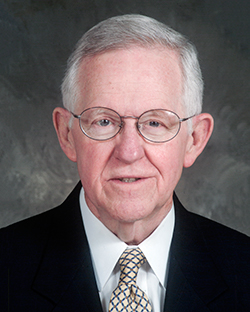 C. Henry Gold
There are those individuals who labor intensely at a multitude of chores to benefit Oklahoma higher education but who in a modest, quiet way stay out of the limelight for much of their careers. But those people who have seen the benefits of such labor and who understand the expertise of these individuals who accomplish so much constantly seek wisdom and advice from them. Such an individual is C. Henry Gold, who has served Southeastern Oklahoma State University at Durant. During his years there, it was not uncommon for State Regents, chancellors and other university presidents to call him weekly on statewide higher education issues; students noted that to his office came a parade of political leaders.
Dr. C. Henry Gold was born in Hobart, OK (7-25-33). In 1939 his family moved to Lawton where he attended Lawton public schools until entering the University of Oklahoma where he earned a BBA, an MEd, and an EdD degree in 1967. He was hired in 1956 to teach in the business school of Oklahoma City University. There he went from one position to another in administration: Director of Community Relations, Director of Admissions, Registrar and Director of Financial Aid, and in 1967 Director of Placement. His dedication and acumen in administration was noticed by officials at Southeastern Oklahoma State who hired him as Professor of Business Administration and Director of the Southern Oklahoma Program. He stayed at the institution, became Dean of the School of Business and Industry, Dean of Academic Affairs, and Graduate Dean and Assistant Vice President of Academic Affairs. He seemingly retired in 1995 but continued to work for the school until his true retirement in 2014.
Dr. Gold creatively extended the reach of higher education to other Oklahoma cities. As Director of the Southern Oklahoma Program, he established classes in Ardmore and produced the first higher education center in Oklahoma, which is now known as the University Center of Southern Oklahoma. He then became, one year later, the Director of a Technology Use Studies Center, sponsored by NASA, where he pioneered computerized retrieval and dissemination of information for small business. As the first Dean of the School of Business and Industry (1973) at Southeastern, he obtained grants from the federal government for developing and strengthening institutions of higher learning. Southeastern Oklahoma State University still benefits from these grants. In 1990 he wrote a proposal that produced a partnership between Southeastern and the Noble Foundation to create twenty-five state of the art industrial businesses by 2000. Because of this effort, the state placed the Oklahoma Small Business Development Center on the Southeastern campus. After 1995, his efforts on behalf of Southeastern were as Development Officer. Over the years he obtained $8.2 million in grants for Southeastern.
Dr. Gold's focus was on small business, as his dissertation subject was a curriculum guide for a course program in small industrial business. His writings have been directed to this subject. He wrote 375 small business institute cases between 1978 and 1989, and 46 reports and technical bulletins for the Technology Use Studies Center. That his interest in business development should lead to connections with the business community should come as no surprise. In 1964-1965 he was Director of Marketing for the Harlow Publishing Company (Oklahoma City). He has been a member of the Board of Trustees of the Medical Center of Southeastern Oklahoma and a member of the Board of Directors of the First United Bank and Trust (Durant). He has been a member of the Durant Chamber of Commerce since 1968 and a member of the Kiwanis Club since 1963. For higher education, he served from 1972 to 1979 as Executive Secretary of the Oklahoma Commission on Education at the state capitol. From 2009 to 2013, he served on the Board of Trustees of Oklahoma Baptist University. Of course, awards have followed. He was chosen by the Kiwanis Club of Durant as Citizen of the Year in 1973, became a Kiwanis Fellow by the Kiwanis International Foundation, was named the Outstanding Educator of America in 1973, given a Governor's Commendation in 1991, and in 1998 the Oklahoma Department of Commerce Award for his support of Oklahoma Economic Development. By his outstanding service to the citizens of Oklahoma, to Oklahoma higher education, and to aiding economic development in the state, the OHEHS honors the achievements of C. Henry Gold by inducting him into the Oklahoma Higher Education Hall of Fame.