Hall of Fame Member Biographies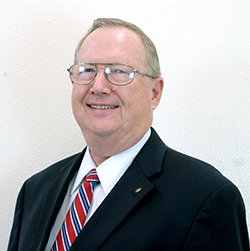 David A. Bryant
David A. Bryant, Ph.D., came to Oklahoma in January 2003 when he was named the president of Panhandle State University. He tackled several major challenges at PSU, including reinstating strategic planning, developing constituent and community support, renovating campus infrastructure, and engaging the Hispanic community. Bryant gave the university a new sense of direction and renewed sense of purpose with his leadership and dedication to the campus.
Bryant's educational history goes back to Lower Columbia College, where he earned an associate's degree in zoology in 1963. He continued his studies at Washington State University, receiving his bachelor's in range management in 1966. He pursued his master's in range science at Texas Tech and earned his doctorate in range management in 1971 from the University of Arizona. Bryant's administrative background in higher education begins almost immediately after receiving his doctorate, when he served as chairman of the department of range management at Humboldt State University in California from 1973-76. From 1982-87, he served as the head of the Range Resources Department at the University of Idaho and then as the dean of the college of agriculture and biological sciences at South Dakota State University from 1987-1998. In 1998, Bryant became the vice provost as well as the dean and director of the extension service at Montana State University and served in this capacity until being named president of PSU.
Bryant's academic background was instrumental in guiding his holistic approach to improving the Panhandle State. He started with a very simple approach to revitalizing the campus: making it beautiful. Bryant emphasized landscaping and attention to detail, replaced sidewalks and campus signage, paved formerly-dirt parking lots, and planted flowers along walkways with the goal of making the university a pleasant, inviting environment in which students could live, work, and study. Bryant has made significant contributions in support of affirmative action, including paying strict attention to supporting and following all affirmative action/equal opportunity guidelines in the hiring of faculty and staff, advocating for the recruitment of Native American students in the agricultural and biological sciences, and the recruitment of women into undergraduate and graduate programs.
Bryant also reviewed academic offerings and established new programs to reinvigorate students' learning and interest. He developed several new associate degree programs including emergency medical technician, fire protections safety, and wind energy and maintenance training. These programs dovetail with community needs and the industrial and energy sector growth in the Oklahoma panhandle.
Since the beginning of his academic career, Bryant has published dozens of scholarly articles on various range management topics in renowned scientific journals. He is a frequent presenter at academic conferences in the field and served as an independent scientific consultant on eighteen allotment management plans in Arizona. Bryant has also been instrumental in securing numerous high-profile grants, government contracts, and special funds for all of the institutions he has served.