Hall of Fame Member Biographies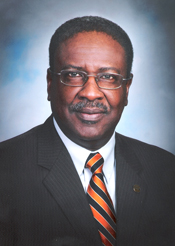 Dr. Donnie L. Nero Sr.
As President of Connors State College, Dr. Donnie L. Nero Sr. has carved out a remarkable record of enhancing student academic performance, expanding the school's infrastructure, and participating in community life. Donnie Nero Sr. obtained a doctorate in education from Oklahoma State University. In 1985, he became the first Dean of Student Services at Tulsa Community College's southeast campus and rose to become provost. In the millennial year 2000, he became president of Connors State College retiring from this position in 2011. Over the past decade, he has instituted capital projects to renovate and expand buildings and one $9.6 million project to increase housing. Due to his efforts, student enrollment increased from 2,691 in 2000 to 3,643 in 2010. He has pioneered partnerships with programs at Northeastern State University in Muskogee. His efforts to enhance education at Connors State College led to the North Central Association bestowing accreditation upon the school for a ten-year term with no follow-up reports or visits. As remarkable as his achievements in building the quality of education at Connors State has been, the community activities of Dr. Nero Sr. have been equally impressive. During his years of academic activity, he has been, for example, a member of the Governor's "Edge" Task Force (2004), a board member of the Greater Muskogee Development Corporation, and a member of the Governor's CLASS Task Force. For these activities, Dr. Donnie L. Nero Sr. has earned statewide recognition: the Phi Theta Kappa International Shirley B. Gordon Award of Distinction; the Muskogee Area Educational Consortium Educator of the Year (2004), the Baptist State Convention 2007 Progressive Award (OK); the EWIB Excellence in Service to the Community Award (2008), and the Department of Human Services Trailblazer Award (2009). Tonight we recognize the wonderful services Dr. Donnie L. Nero Sr. has performed for the state of Oklahoma.