Hall of Fame Member Biographies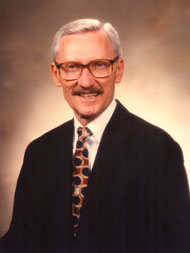 Douglas Wade Voth, M.D.
The OU Health Sciences Center has earned a national reputation for medical innovation, cutting edge research, and training of medical professionals. The credit for this recognition goes to tireless professionals such as Douglas Wade Voth who has inspired students and colleagues to excel as medical practitioners and researchers. Coming from the Kansas University Medical Center, Dr. Voth became Professor of Medicine at the University of Oklahoma College of Medicine in 1973 and afterward served a number of administrative posts at the school as well at medical schools and teaching hospitals in Kansas, Saudi Arabia, the United Arab Emirates, and England. On his return to OU, he rose to be Executive Dean of the OU College of Medicine. He has received scholarship and excellence awards from every institution at which he worked and from national and international medical associations. At the OU Health Sciences Center, he established the Heartland Health Plan (a University HMO), the Oklahoma Center for Neuroscience and helped several departments receive national recognition. Both the Continuing Medical Education and the Graduate Medical Education programs received his tireless attention, resulting in national accreditation. Subsequently, as Dean of the OU College of Pharmacy, he doubled the college budget, expanded enrollment, and added over twenty-six new faculty members. He is widely known as a gracious leader and dedicated teacher. For his contributions to the high level of health care education in this state and the national and international attention it has attracted, the members of the Society welcome Dr. Douglas Wade Voth to the Higher Education Hall of Fame.