Hall of Fame Member Biographies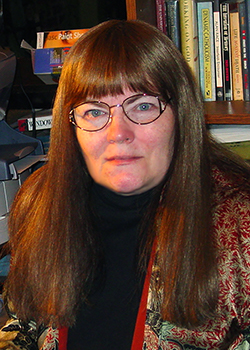 Ingrid Shafer
Rare are those scholars who inspire not only their students but also their colleagues, their academic peers in the nation, and humanitarians throughout the world. Ingrid Shafer was such a person. Born in Austria in 1939, Ingrid Shafer's mission in life was shaped by the World War II experience and the realities of Nazi ideology and rule. Out of the tragedies of this period, she sensed her calling was to bring people together and to overcome the boundaries that people erect on the basis of ethnicity, religion, and class, and the means to do so was to explore intensely the liberal arts, especially literature, philosophy, and history. She attended the University of Vienna, was a Ph.D. candidate at the University of Innsbruck, and then immigrated to the United States. She earned an M.A. in German Literature in 1967 from the University of Oklahoma, later another M.A. in Human Relations (1975), and finally a Ph.D. in Philosophy (1984). She taught German at the University of Oklahoma (OU) for one year and then joined the faculty of the Oklahoma College of Liberal Arts in 1968 when that school was being transformed into a school mandated to teach a unique liberal arts experience for undergraduates. She helped lay the foundation for the University of Science and Arts of Oklahoma (USAO) by advocating an interdisciplinary approach. She once said, "For me teaching is building bridges: between people, between disciplines, between ideologies—all of those things that divide humanity."
Her career reflected her indefatigable energy and exploded in all directions. She was a prolific author and published six books and 98 articles and had four books in progress at the time of her death. These works spanned the disciplines. Her books centered on the life of the theologian Andrew Greeley, while her articles found their way into journals devoted to philosophy, theology, and literature. She had been special editions editor of the Journal of Popular Film and Television and the Journal of Popular Literature, a member of the editorial board of Insights, and the primary editor of Crosstimbers: A Multicultural, Interdisciplinary Journal, published by USAO. She served as chair on innumerable panels at national and international conferences. For this awesome performance she twice earned the USAO Regents Research Award.
But her academic publication and research were all related to a deep conviction that she needed to move the peoples of the world to a more humanitarian view of themselves and others. A deeply religious member of the Catholic Church, Professor Shafer believed in the interfaith movement and conversation and understanding among all religious faiths; she was a promoter of the Vatican II reforms. To advance her goal of increasing human interaction and tolerance, she immediately embraced the possibilities opening up in the 1980s and 1990s by the World Wide Web. At the same time she was blazing an astonishing path of academic publication, she created and was the editor of 26 websites, most devoted to creating harmony amongst the world's peoples. She as well produced 26 You Tube videos. For these efforts she won the Star Award in Recognition of Meritorious Work to Promote Peace and Harmony from the Association for Communal Harmony in Asia.
Her teaching drew raves from students, who long remembered her as a dynamic teacher who made students deal with ideas and broad concepts. She filled the amphitheater: "When she lectured we were all enthralled. . . . I have never looked at the Wizard of Oz the same." She taught all sorts of classes: logic, creative writing, poetry, philosophy, senior seminar, a team-taught course on world thought, and "Toward a Global Ethic: A Dialogue with the World's Religions." The last being an online graduate course taught under the University of Oklahoma Human Relations Department. For her stellar performances in the classroom, Professor Shafer earned the USAO Regent's Superior Teaching Award and in 2002 from the Oklahoma Foundation for Excellence she was given the Medal for Excellence in College and University Teaching.
Professor Ingrid Shafer retired from USAO in 2009. In 2011 she moved to her son's home in Lafayette, California, and continued to teach her internet course on Global Ethics until she passed away on March 5, 2014. For her marvelous academic and profoundly intense humanitarian career, the OHEHS proudly honors Ingrid Shafer by inducting her into the Oklahoma Higher Education Hall of Fame.