Hall of Fame Member Biographies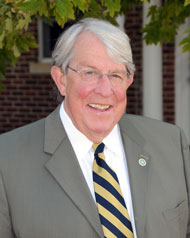 John Feaver
John Hansen Feaver – son of philosopher, educator and famous OU football invocator J. Clayton Feaver – was born to teach. And while his career in the classroom, which began with his father at the University of Oklahoma and continued at the University of Science and Arts, spanned only 20 years, he continues to mentor, inspire – and teach – in his roles as college president and state leader in historic preservation, education financing, public art, interdisciplinary learning and the liberal arts.
At OU, he earned a bachelor's degree in history and political science, a master's in European history and a doctorate in U.S. diplomatic history.
He joined the USAO faculty in 1980, rose through various leadership positions until he became its 12th president in 2000.
He continues as the primary architect of USAO's modern renaissance under its 2005 Mission Enhancement Plan that guides all decision-making and strategic planning. Under his watch, USAO has built first-class housing, launched innovative arts festivals and academic symposia, achieved nationally competitive sports programs, earned status as a National Historic District, and installed a list of privately funded legacy projects: like the newly renovated Home of the President, The Jourdan House, which is itself a work of art as a meticulously restored 1919 architectural masterpiece by Solomon Andrew Layton, designer of the State Capitol.
He brought to life the college's hidden history as Oklahoma's nationally recognized historic college for women, and in its image gives inspiration to all stakeholders to protect and strengthen its time-tested, century-old mission as Oklahoma's public liberal arts college.
Feaver's most visible signature on campus is public art – from major bronze sculptures to installations that tell profound stories of institutional legacy, like the granite landscape sculpture called "The Circle," and the Davis Hall mural called "Universal Creativity." Soon he will erect the first major bronze sculpture in Oklahoma to honor the life and legacy of Te Ata, the American Indian storyteller and 1919 alumnae who became the first Oklahoma Treasure.
He is the current chair of the State System Council of Presidents, past chair of the Oklahoma Academy for State Goals, a member of many other boards including the Oklahoma Heritage Association and Oklahoma A+ Schools.
Under his leadership, USAO has been prominently ranked in national media such as U.S. News, Kiplingers, and Washington Monthly. And for its rigorous curriculum, USAO last year earned a grade of "A" by the American Council of Trustees and Alumni, one of only 19 institutions in America to achieve that score.