Hall of Fame Member Biographies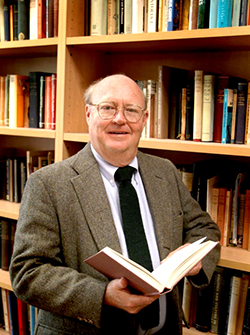 J. Rufus Fears
Jesse Rufus Fears, Ph.D., was among the most distinguished scholars to have served on the University of Oklahoma faculty. He was quite simply the paragon of a professor: a master teacher, a mentor, an acclaimed scholar, a model citizen committed to service, a trusted and reliable colleague always ready to offer support. Fears first studied history and classics at Emory University before earning both his master's and doctorate in classics from Harvard. In 1990, he accepted a position as professor of classics at the University of Oklahoma, after stints at Tulane, Indiana, and Boston University throughout the 1970s and 80s. He was named the G.T. and Libby Blankenship Chair in the History of Liberty at OU in 1992 and the David Boyd Ross Professor of Classics in 2004. He was recognized as a leading expert on ideology in the Roman republic and empire and continued to teach and publish until his death in 2012.
Fears' academic career is replete with renowned fellowships, starting from his days as a graduate student at Harvard. In 1969, he was awarded a Fulbright Fellowship in addition to being named a Sheldon Travelling Fellow, Rome Prize Fellow of the American Academy in Rome, and Associate Member of the American School of Classic in Athens. His list of post-doctoral accolades is no less impressive, being named a Guggenheim Fellow for 1976-77, an
Alexander von Humboldt Foundation Fellow for 1977-78 and 1980-81, a National Endowment for the Humanities Fellow in 1986, and a Woodrow Wilson Center Fellowship also in 1986, and many other grants in aid of research and teaching both from institutions were he taught and other prestigious private organizations.
Dr. Fears received no less than 29 awards for outstanding teaching, beginning with Indiana University's Senior Class Council Outstanding Teacher Award in 1976. He was inducted into the Golden Key National Honor Society for excellence in teaching in 1984 for Indiana University, in 1989 for Boston University, and in 1998 for the University of Oklahoma. He was named Most Inspiring Professor at OU in 2005 and received the Oklahoma Foundation for Excellence's Medal for Excellence in College and University Teaching in 2006. Fears was the subject of a feature article in Sooner Magazine in Winter 2010, again focusing on his excellence in teaching. His list of publications and recorded lectures extends for many pages and covers a range of topics far beyond his specialization in the classics, including many lectures on the Second World War and particularly Winston Churchill's leadership as well as the influence of modern technology on the future of education and the importance of education in a free society. He was known to dynamically engage and involve classes in excess of three hundred students with his unmatched rhetorical skills, bringing to life historical figures and dramatic moments in the cause of liberty.
Dr. Fears not only molded his students into better individuals, he also taught them to live purposeful, informed lives by using the lessons of the past to make decisions in the present and plan for the future. He taught that though the world has changed throughout the course of history, concepts such as love, courage, and patriotism have always been and will continue to be inescapable parts of the human condition and that the more we can know about how humanity has dealt with them, the better we are able to live our lives to the fullest.