Hall of Fame Member Biographies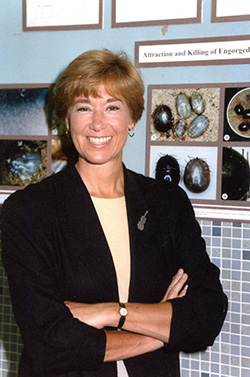 Katherine M. Kocan
Born in Cleveland, Ohio, Katherine M. Kocan, Ph.D., has a long and distinguished career in biomedical research at Oklahoma State University, having served as a faculty member at the College of Veterinary Medicine from 1979 until her retirement in 2016. Dr. Kocan earned her bachelor's degree from Hiram College in 1968 before pursuing a master's of science in public health from the University of North Carolina at Chapel Hill and ultimately receiving her doctorate from Oklahoma State University in 1979.
Her academic career at OSU started immediately with her beginning as an adjunct professor in the department of parasitology, microbiology, and public health within the college of veterinary medicine. Kocan was named assistant professor of veterinary pathology in 1983, associate professor in 1988, and full professor in the department of veterinary pathobiology in 1993. She has served as the Walter R. Sitlington Endowed Chair of Food Animal Research since 1996 and an OSU Regents' Professor since 2000, which speaks to her service and productivity in her field. She served on dozens of university committees both within the college of veterinary science and for broader administrative purposes. In 2008, Dr. Kocan was named a fellow of the Society for Tropical Veterinary Medicine.
One of her most noted areas of research has been the effort to understand the epidemiology of bovine anaplasmosis, an exceedingly important disease affecting Oklahoma's cattle industry. Additionally, human anaplasmosis is emerging as the second major tick-borne disease in the United States and many parts of the world. Dr. Kocan worked to develop preventative and control measures, bringing new life to contemporary research efforts especially through the study of ticks and their role in spreading the pathogen. Within a few short years, her research was nationally recognized and scientists from around the world were coming to Stillwater to work in her laboratory. She holds four patents based on her research on tick-borne pathogens and generated nearly seven million dollars for ninety different research proposals for OSU through various grants and government agencies.
Dr. Kocan's published work is extremely extensive, having authored or co-authored 330 peer-reviewed papers, three books, and ten invited book chapters. From 1976, when she presented her first paper as a graduate student until 2015 when she became a Life Member of the Conference of Research Workers in Animal Diseases (CRWAD), Dr. Kocan presented 42 papers as the primary author and was co-author of 43 more at the Chicago and St. Louis meetings of this organization. She served as Section Chair or Co-Chair of parasitology and vector-borne diseases at this conference for four years.
Recognizing the importance of CRWAD in the professional development of young scientists, she consistently used their annual meetings as a training ground, and, over the years, 25 students from her laboratory presented papers at the conference. She served as the major advisor for ten graduate students and on 25 graduate student committees. Six national and international post-doctoral fellows have studied in her laboratory and many of her advisees have gone on to distinguish themselves in numerous ways.