Hall of Fame Member Biographies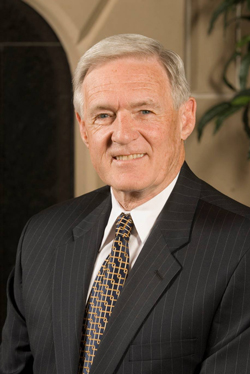 Loren P. Gresham
Many in Oklahoma intensely devote their lives to improving all aspects of Oklahoma living. Such has been the career of Loren P. Gresham. Obtaining his A.B. at Pasadena College and an M.A. from the University of Southern California, he earned his Ph.D. in Political Science from the University of Oklahoma in 1973, after a Fulbright study leave at Victoria University in Wellington, New Zealand (1970-71). He began teaching Political Science at Southern Nazarene University in 1967 and continued to instruct there until 1997.

His interest in international affairs was obvious in his research areas, and at Southern Nazarene he has been instrumental in creating programs for the school's students to travel to Brazil, Bulgaria, Italy, Kenya, Swaziland, and Venezuela. He has coauthored a history of Southern Nazarene, and, unique among the academics admitted to the Oklahoma Higher Education Hall of Fame, he coached a basketball team to the NAIA National Championship in 1981. He became Provost of the school in 1985 and was then elected President of the University in 1989, a post in which he continues to serve, making him one of the longest-serving presidents in the history of Oklahoma higher education.
In his twenty-four years as President, he has expanded endowments, opened a retirement center, established an alumni center, founded a residential complex, initiated a multi-million dollar campaign for expanding the sciences, and fostered a Center for Fine Arts. In the midst of all these activities improving the education and the services of Southern Nazarene University, he has contributed mightily to the communities of Bethany and Oklahoma City as member of the Oklahoma City and Bethany Chambers of Commerce, President of the Oklahoma Independent Colleges and Universities, member of the Board of Directors of Integris Baptist Medical Center, and member of the Board of Directors of the YMCA of Oklahoma City. For his devotion and service, the Higher Education Heritage Society welcomes Loren P. Gresham to the Oklahoma Higher Education Hall of Fame.