Hall of Fame Member Biographies
Maggie P. Hayes and Larry K. Hayes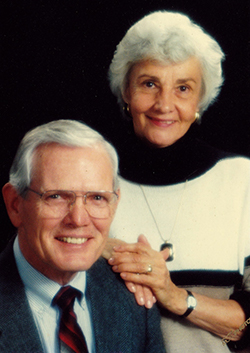 Maggie P. Hayes and Larry K. Hayes
It is rare to have a wife-husband team that together make vital contributions to higher education and rarer, still, when the two can elegantly combine academics and athletics. But such is the case of Maggie P. Hayes and Lawrence (Larry) K. Hayes. Together, they pursued their dual passions of service to higher education and to golf. The people and the state of Oklahoma are all the better for their dedication.
Dr. Maggie Hayes began teaching at the University of Oklahoma in 1968 as an assistant professor in the Home Economics Department, rose to professor and was Director of Human Development and Associate Professor of Women's Studies at her retirement in 1990. She earned all of her degrees at Oklahoma State University, including her Ed.D. of Higher Education in 1976. She taught courses in Marriage and Family Relations, Alternative Lifestyles, as well as Separation and Divorce. She also taught the state's first course in Human Sexuality, a landmark of her academic career. Her extensive research in divorce in the middle years, marriage, and women's lifestyles was published and referenced in professional journals and local media and she was one of the developers of a family lifestyles series on OETA. In an era of rapidly changing gender roles, Maggie was an expert in her field and a frequent workshop leader and guest speaker.
Dr. Larry Hayes was born in Missouri and excelled in multiple sports throughout high school, including golf. After serving in the Army Air Corps, he was recruited to play basketball for Henry Iba at Oklahoma A&M and was part of the Aggies' 1946 National Championship team and the 1949 runner-up team. In 1946 he met Maggie, A&M's Engineering Queen. The two were married in 1947 and had four sons. Graduating with a degree in physical education, Larry taught history and coached high school basketball in Arkansas, freshman basketball at Texas A&M then was head coach at College Station High S0chool. The city golf course was across the street from the school and it was the first of many golf courses that were second homes to Larry and his sons. Three sons played collegiate golf and became golf professionals, one as a PGA touring pro. In 1962, after earning his master's degree at Texas A&M, Larry and Maggie returned to Oklahoma State where both continued their education, and Larry began a new career path in higher education administration. He earned his Doctorate in Education, served as Assistant Dean of the College of Education at OSU from 1966 to 1968, then joined the Oklahoma State Regents for Higher Education until his retirement in 1989. After retirement, Larry joined the PGA Tour himself for a year as a caddy for his son.
Larry Hayes' primary contribution to Oklahoma higher education was designing with Dr. Jerry Hargis the "OneNet" program, a public utility unique to American higher education. It replaced the telephone system for all state agencies, public institutions and libraries, transmitting voice, televised classes, and data. Larry's chief responsibility was to build a centralized data system that gathered and stored all possible information about Oklahoma higher education. His massive file contained data on every student and campus building in the State System, as well as on faculty, university and collegiate budgets, dollars expended, and education programs. The database, named the Educational Data System, was paired with Dr. Hargis' Talkback Television Network to produce OneNet.
Larry passed away in January 2015 and is survived by Maggie, their four sons, 7 grandchildren and 4 great-grandchildren. For their dedication to the state of Oklahoma and to its institutions of higher education, the OHEHS is proud to induct both Maggie Parks Hayes and Lawrence K. Hayes into the Oklahoma Higher Education Hall of Fame.