Hall of Fame Member Biographies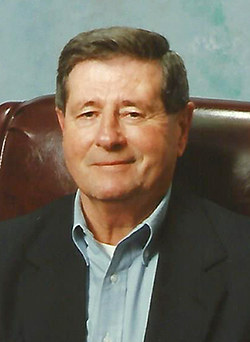 Marlin "Ike" Glass Jr.
Marlin "Ike" Glass Jr. has demonstrated throughout his career, a commitment to higher education in Oklahoma that is truly remarkable. Raised in Newkirk, Oklahoma, Glass joined the United States Navy after graduating high school, serving from 1952 to 1956 as a Navy air controller. He is a veteran of the Korean War. After completing his military service, he returned to his home state to attend Oklahoma State University on the G.I. Bill, earning a bachelor of science degree in personnel administration in 1961. Once he received his degree, Glass worked for several different trucking companies in the area, but ultimately returned to the business his father founded in 1968, Glass Trucking. He now serves as that company's CEO and has turned it into a major regional enterprise that operates throughout the Midwest with over 70 employees and millions in annual revenue. Glass credits his father for fostering his passion for education and his conservative work ethic.
Glass was first appointed to the Oklahoma State Regents for Higher Education by Governor Frank Keating in 1997, serving a nine-year term. He was reappointed by Governor Brad Henry in 2007 and continued to be a significant leader in Oklahoma higher education until his retirement from the state regents in 2016. Beyond his tenure as a regent, Glass is an active community and civic leader, having served previously as president of the Newkirk School Board, the Oklahoma State University Alumni Association, the Oklahoma Transportation Center, and the Oklahoma Trucking Association. He has also served as a member of the Oklahoma Heritage Association's board of directors and as chair of the Oklahoma State Chamber. Additionally, Glass as been involved with many community organizations in other capacities, including the American Legion, Disabled American Veterans, Navy Leagues, and Cowboys for Higher Education. Glass' significant accomplishments in service to the state of Oklahoma has been recognized numerous times—he was inducted into the Newkirk High School Hall of Fame, Oklahoma State University's Business Hall of Fame in 1998, and the Oklahoma Hall of Fame in 2009. Glass and his wife Marybeth still live in Newkirk and have two children, Rob and Jennifer, who are both proud OSU graduates.