Hall of Fame Member Biographies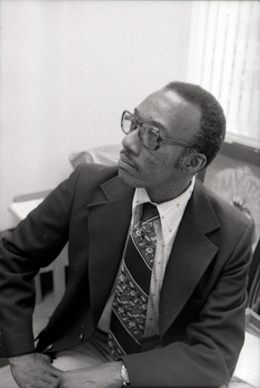 Melvin B. Tolson, Jr.
Dr. Melvin B. Tolson, Jr., broke barriers of racial discrimination in higher education, served as a role model showing the erudition that African Americans could achieve, and enthralled students with his enthusiastic teaching. Born in Charlottesville, Virginia, in 1923, Melvin Tolson, Jr., grew up in Marshall, Texas, where he attended public school. His father was the famous poet, Melvin B. Tolson, whose success as the debate coach at Wiley College served as the subject of the movie The Great Debaters. Drawing on his father's dedication to education, Tolson earned a B.A. in English and Philosophy in 1942 from Wiley College, then obtained a Theology degree in 1946 from Gammon Theological Seminary (Atlanta). He turned to Oklahoma A&M to receive an M.A. in French and English in 1950, and then in 1956 obtained an advanced degree from the University of Paris. Returning to Oklahoma, he obtained his doctorate in French and Spanish in 1965 from the University of Oklahoma. However, he had begun teaching at OU in 1959, an affiliation he retained until his death in 2011. He was the first African American hired by OU and for years never saw African Americans in his French literature classes. His students were enthusiastic about his teaching. Because of his performance, he earned the Regents' Award for Superior Teaching in 1965. Over the years, he translated articles and books, gave public lectures on African American poetry and public readings of his father's poems. He gave of his time and expertise to area high school French teachers to encourage younger students to excel in French. He belonged to a host of linguistic societies and served on numerous committees serving student and community needs. Melvin Tolson, Jr., passed away on July 31, 2011, and it is with pride that the Oklahoma Higher Education Heritage Society inducts him into this year's Higher Education Hall of Fame.