Hall of Fame Member Biographies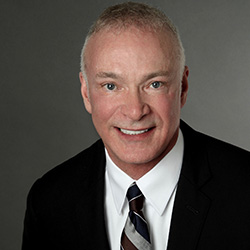 Paul W. Sechrist
With over three decades of distinguished service within the Oklahoma higher education community, the resume of Paul W. Sechrist, Ph.D., speaks for itself. Sechrist studied speech communication at Southern Nazarene University, earning his bachelor's degree in 1976 and his master's the following year. From there, he began his long career as an educator in the classrooms of the Yukon Public Schools, teaching courses in speech, debate, and journalism as well as coaching the debate and forensics team and serving as the faculty sponsor of the school newspaper.
In 1979, he was named assistant professor of teacher education and director of internships at Southern Nazarene, teaching graduate and undergraduate courses in curriculum development and evaluation, advanced learning management, communication, and research. In 1982, he left this position to pursue a Ph.D. in communications from the University of Oklahoma, earning that degree in 1984. While working on his doctorate, Sechrist simultaneously worked as an independent consultant to develop and deliver a variety of communication, management, leadership assessment, and personal computer training programs to a wide variety of clients in the Oklahoma City area, including: Mercy Hospital, Kerr Enterprises Ltd., AT&T, among others.
After receiving his doctorate, Sechrist returned to Southern Nazarene University in 1986 as associate professor and dean of the college of adult and external programs. in this capacity he was responsible for the administration and leadership of the college, including not only its academic functions but also marketing, admissions, financial aid, evening and weekend courses, continuing education offerings, internships, along with all off-campus locations including the university's center in Tulsa.
Sechrist's long tenure with Oklahoma City Community College began in 1995, when he was selected to be the dean of the division of business and computer technology. Besides administering the academic division, he was heavily involved with the workforce and economic development initiatives of the college, coordinating with area businesses to provide students with relevant and necessary opportunities. In 1996, Sechrist was named OCCC's vice president for academic affairs and served as the chief officer providing leadership and operational management of all areas related to institutional academics. He was instrumental in developing partnerships with other colleges and universities to maintain the continuity of curricula within the higher education system. In 2001, he added the title of provost to his vice presidency and served as the president's principal advisor, coordinated the activities of other members of the president's cabinet. Sechrist was responsible for executive leadership in the areas of strategic and annual planning, institutional effectiveness, human resources, enrollment management, and information technology. One of his most prominent achievements as provost is working with state legislators to pass the $500 million Higher Education Bond Issue that increased operations funding for higher education in 2005.
From 2005 until his retirement in 2015, Sechrist served as president of Oklahoma City Community College, leading one of the largest and most successful single-campus community colleges in the nation, serving over 22,000 degree-seeking and 10,000 non-credit students each year. He was named "Most Admired CEO" in Oklahoma by the Journal Record in 2011.