Hall of Fame Member Biographies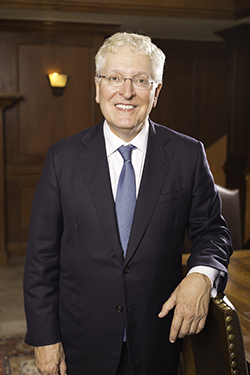 Robert H. Henry
Robert H. Henry, J.D., has enjoyed successful career in, not one, but three fields: law, government, and higher education. His amalgam of intellect, scholarship, and civility in public discourse has been the signature of his remarkable professional life, which has demonstrated that the application of these qualities outside of the college campus can greatly improve public policy, commerce, and exchanges between and among peoples and nations.
Born in Shawnee, Judge Henry earned both his undergraduate and juris doctorate degree from the University of Oklahoma. At age 23, while still a student at OU Law, he was elected to the Oklahoma House of Representatives and served from 1976-1986. During his legislative service, Rep. Henry was known as a stalwart advocate of higher education. Immediately after his term in the state house, he was elected Attorney General of Oklahoma and was reelected without opposition in 1990. Judge Henry's "full-time" career in higher education began the following year, when he resigned as Attorney General to become dean and professor of law at Oklahoma City University, a position which he held until his appointment by President Bill Clinton to serve as federal judge for the United States Court of Appeals for the Tenth Circuit in 1994. In this capacity, his judicial committees and activities included serving as chair of the U.S. Judicial Conference Committee on International Judicial Relations and as a member of a delegation led by Supreme Court Justice Sandra Day O'Connor which represented the U.S. Judiciary at the Arab Judicial Forum. In 2008, he began Chief Judge of the Tenth Circuit.
In December 2009, Judge Henry left the federal bench and returned to higher education when he was appointed the 17th president of Oklahoma City University. He has proved himself a very accessible, hands-on administrator beloved by students, staff, and faculty. His leadership has helped OCU prosper despite a nearly calamitous downturn in the energy industry, which has long been a financial mainstay of the institution. While maintaining its nationally-recognized excellence in the performing arts, OCU has expanded its programs in nursing and other medical specialties along with new facilities to house these programs, as well as relocating its law school to the repurposed Central High School building in midtown, where it is strategically situated for interactions with municipal, state, and federal courts, public prosecution and defense agencies, and private law firms.
Judge Henry has presented lectures across the globe and has been published in magazines, newspapers, law reviews and by the university presses of Oxford, New York, Nebraska, and Oklahoma. He was recently presented The Scribes Lifetime Achievement Award for his legal writings, joining the company of three U.S. Supreme Court Justices and four other federal judges. Judge Henry currently serves on the boards of directors of Devon Energy, the Oklahoma Medical Research Foundation, the Oklahoma Hall of Fame, the Greater Oklahoma City Chamber, the Jasmine Moran Foundation Children's Museum, and Allied Arts, among others, and has an extensive list of previous service on the boards of corporations, civic organizations, and institutions of higher education. The University of Oklahoma recognized Judge Henry's varied body of impressive achievements in May 2016, awarding him an honorary doctorate, after he delivered their spring commencement address. Though now a cliché, the phrase "a gentleman and a scholar" rings true in its description of Robert Henry as the embodiment of the mission of the Oklahoma Higher Education Heritage Society.