Hall of Fame Member Biographies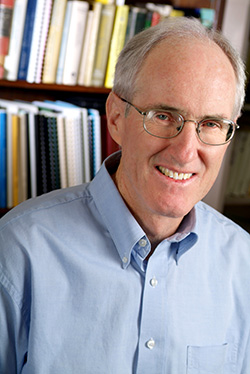 Roger G. Harrison Jr.
Roger G. Harrison Jr., Ph.D., was born in Lebanon, Missouri but his family has deep roots in Oklahoma. His grandfather, Arthur Cecil Harrison, came Oklahoma in 1892 with his father, mother, and sister in a covered wagon from Wise County, Texas and settled in Tecumseh, Oklahoma; two years later, they moved to Shawnee. A great-grandfather, Andrew Jackson Hartenbower, rode a horse in the Oklahoma land run in 1889 and staked a claim on land near Orlando. He and his wife, Katie Ann, later moved to Stillwater, and he served in the Oklahoma House of Representatives starting in 1915. Both of Roger's parents are graduates of the University of Oklahoma—Roger Sr. in business administration and Mary Katherine in physical education and dance. At the time of his birth, Roger's father was an officer in the Army stationed at Ft. Leonard Wood during World War II. His father served in General Patton's Third Army in Europe, crossing the bridgehead over the Rhine River at Remagen, Germany, and moved with the army all the way to Pilsen, Czechoslovakia.   
After the war, Harrison lived in Clinton, Oklahoma until 1949, when his parents moved further south to Altus. He attended public schools in Altus, culminating in graduation from Altus High School in 1962. He began his college career at Westminster College in Fulton, Missouri, majoring in chemistry. Deciding that he wanted to major in chemical engineering instead, the following year he transferred to the University of Oklahoma. The recipient of a scholarship from Cabot Corporation his senior year, he graduated with distinction from OU in 1967. During his final semester at OU, he worked on a chemical engineering research project with Professor Philip Colver on the subject of heat transfer during boiling. This research and his interest in chemical engineering convinced him to apply to graduate schools in this field. He was accepted at three top-ranked chemical engineering departments, including the University of Wisconsin-Madison, where he decided to attend, completing his master's in 1968 and his Ph.D. in 1975. While working on his doctorate, Harrison became interested in applying chemical engineering to the study of human diseases and worked with professor Thomas Massaro on a project to study the permeation of fluid through arterial tissue in order to understand more about heart disease. 
Before embarking on an academic career, Harrison worked as a researcher for the Chevron Research Company from 1978-1980, the Upjohn Company from 1975-1981, and Phillips Petroleum Company in Bartlesville from 1981-1988. In 1988, he accepted a position as associate professor of chemical engineering at the University of Oklahoma. He was critical in getting a grant for a new bioengineering program at OU, which would lead to the creation of the Stephenson School of Biomedical Engineering. He is the inventor or co-inventor of nine US patents in biotechnology with a specific focus on cancer treatment. His research has been highlighted in a front-page article in The Oklahoman, as well as TV news stories on Fox 25 in Oklahoma City. Harrison has also devoted significant time and effort to writing books on various subjects in chemical engineering. His most notable authorial effort has been on a textbook in the field of bioseparations, which he began working on after realizing that there was a need for a textbook in this field for upper-level undergraduates and graduate students that would also be useful for practitioners in industry.