Hall of Fame Member Biographies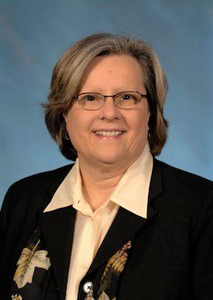 Susan C. Barber
Susan C. Barber, Ph.D. first earned her bachelor of science degree from Howard Payne University in Brownwood, Texas in 1974. She then pursued a master's from Oklahoma State University and received from doctorate in systematic botany from the University of Oklahoma in 1980. Since the early 1970s, she has performed in-depth fieldwork in botany in Texas, Oklahoma, Arkansas, Louisiana, New Mexico, Colorado, Utah, California, Oregon, among other states. Her scientific prowess is obvious from her long list of publications and presentations at academic conferences across the country.
Barber began her academic career as a professor in the biology department of Oklahoma City University in 1983. She served as department chair from 1986-2003 before moving into higher administration, eventually being named provost and vice president for academic affairs in 2012. Upon assuming her most recent title, Barber immediately took over a complicated accreditation and guided OCU through the process efficiently and successfully. Afterwards, she led an even more difficult prioritization process that took over a year of highly detailed work with all of the university's constituencies. The successful completion of this paradigm-shifting plan could well serve as the model for other liberal arts institutions in the area. The high esteem in which colleagues held her allowed Barber to achieve and to help other achieve goals that otherwise may not have been possible. She served as a role model for looking beyond self-interest and appealing to higher ideals. For her entire career at OCU, Barber has been completely dedicated to making higher education serve its stakeholders in the best way possible.
During her time as a professor, Barber was one of leading organizers of the Flora of Oklahoma Project, a cooperative research effort involving more than fifteen scientists from ten Oklahoma institutions of higher education. The project examined the approximately 200,000 specimens of Oklahoma plants collected since 1818, determining special boundaries, measuring all the observable features, writing identification keys, and published the results. Barber was also assigned with collating all of these botanical records into a massive database and transmitting the information to the coordinating editor and typesetter. Her work has been invaluable to the completion of the first two phases of the project, which resulted in the publication of a book that will prove irreplaceable to all plant scientists who will ever study one or more of the native or cultivated plants of this state. Currently, she is heavily involved with her colleagues in beginning the third phase of the Flora of Oklahoma.
Barber has been noted as "that most important of species: a true teacher." Her experience shows her not only as a successful professor and scholar, but an incredibly able administrator and accreditor, a community leader and a trusted colleague. In 2015, OCU awarded Barber an honorary doctorate of humane letters, their school of theatre extended her the Convocation Award, and the Meinders School of Business honored her with the installation of the Susan Barber Walkway. In the same year, she was also named a distinguished alumna in botany by OSU and received the Oklahoma Academy of Science's Lifetime Achievement Award. In 2014, Barber received the Ann Lacy School of Dance's White Cobalt Award in recognition of academic leadership at OCU. In 2012, she was a finalist for The Journal Record's Woman of the Year.