Hall of Fame Member Biographies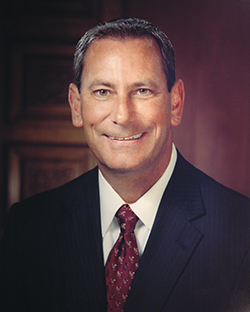 Thomas K. McKeon
Thomas K. McKeon was named president of Tulsa Community College (TCC) on July 1, 2004, making him the third president in TCC history.
McKeon joined TCC as an instructor of horticulture in 1980 and served in a variety of administrative roles at the College, including Dean of Instruction, Provost of two campuses and Executive Vice-President and Chief Operating Officer, before being named president. He retired in June 2014 and was named President Emeritus by the TCC Board of Regents.
As president, McKeon's focus on community-wide access and academic excellence for students has led to significant administrative and process improvements at Tulsa Community College. Under his leadership, TCC has grown to more than 28,000 students enrolled in credit classes and another 8,000 enrolled in continuing education classes each year. He has also championed TCC's commitment to the national Complete College America initiative, which in 2013 yielded the largest number of graduates in the College's 43-year history.
McKeon led the creation of the nationally recognized Tulsa Achieves program that has resulted in the admission of more than 10,000 students in seven years without the cost of tuition and fees. The creation of Tulsa Achieves followed the development of another access-related initiative for high school students: Attend College Early (ACE). The ACE program was subsequently adopted statewide by Governor Brad Henry for high school students attending college concurrently in Oklahoma.
McKeon's leadership created a college-wide energy audit that saves the college more than $1 million annually in energy costs. He is responsible for the creation and construction of the Metro Campus Center for Creativity designed to embrace rapid changes in curriculum delivery and merge a variety of academic disciplines to prepare students for the digital environment. McKeon introduced the national Achieving the Dream initiative which has increased success rates for students, particularly first-generation college students, and later resulted in a college-wide skills course required for both Tulsa Achieves and developmental students that has significantly boosted grade point averages and retention.
McKeon's attention to the community has resulted in the addition of TCC Community Campuses in Glenpool and Owasso, both smaller cities adjoining Tulsa, as well as the creation of the TCC Education Outreach Center in east Tulsa, which has become considered a national model for Hispanic and minority education inclusion and outreach. He is responsible for the design of a teaching laboratory for students in TCC health sciences programs and as a public physical therapy clinic for underserved and underinsured individuals in the community, The Nate Waters Physical Therapy Clinic. Another important community outreach program led by McKeon includes higher education programs in Conner and Turley correctional facilities offering certificate and associate degree curriculum on-site and resulting in significantly reduced recidivism for offenders.
McKeon currently serves The Oklahoma Academy, Impact Tulsa and the Oklahoma Innovation Institute. He has served as president of the boards of directors for Leadership Tulsa, Oklahoma Council of Presidents, Oklahoma Council of Two-year College Presidents, Oklahoma Academy for State Goals, North Texas Consortium of Community Colleges, and Street School. In June 2007, McKeon was inducted into the OSU College of Education Hall of Fame. He is a recipient of the Paragon Award from Leadership Tulsa. In 2008 he was named the Tulsan of the Year by Tulsa People Magazine, and in 2012 he was selected as one of five Oklahomans of the Year by Oklahoma Magazine. He was named one of four 2013 Icons for OSU by OSU-Tulsa in recognition of contributions to Oklahoma State University, the city of Tulsa, and the state of Oklahoma. Tulsa People also chose McKeon as one of the "25 Tulsans Who Shaped Our City Over the Last 25 Years."
McKeon earned a Bachelor of Science degree from California Polytechnical State University, a Master of Science in 1983 and a Doctorate in 1989, both from Oklahoma State University. For his dedication to education, and to the people of Oklahoma, the OHEHS proudly inducts Thomas McKeon into the 2015 class entering the Oklahoma Higher Education Hall of Fame.