Hall of Fame Member Biographies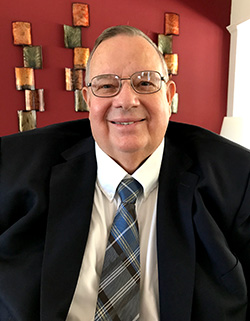 Tony M. Allison
Tony Allison grew up on a cattle ranch near the edge of Caprock and Palo Duro canyons in the panhandle of Texas outside of the town of Silverton. He earned his associate's degree from Lubbock Christian College in 1967, pursued a bachelor's from Abilene Christian two years later, and received his master's in speech communication from Southwest Texas State in 1972. Allison taught at Cameron University for more than 40 years and served as the chair of the communications department from 1983 to 2013, when he retired as an associate professor.
During his 21-year tenure as coach of their speech and debate team, Cameron won national championships in 1979 and 1981 at the Pi Kappa Delta National Speech and Debate Tournaments. For 38 years, he was active as the director of Cameron's summer speech-debate camp, which prepared students to compete in different levels of debate as well as public speaking, interpretation, and acting events for the coming school year. Each year, between 400 and 700 high school teachers and students participated in the camp. While a majority of the campers came from an eight-state region around Oklahoma, many came from as far as Germany, France, and China. Allison also was elected as governor of a 5-state region of Pi Kappa Delta from 1976 to 1978 and served in various officer positions in their regional organizations for many years. He was inducted into Pi Kappa Delta's Coaches Hall of Fame in St. Louis, Missouri in 2005.
Allison was instrumental in the establishment of Cameron's broadcast program, which he spearheaded in 1984. He worked tirelessly to raise funds for the program, which now includes CUTV, the local campus television network as well as KCCU-FM, its award-winning public radio station which broadcasts across southwest Oklahoma. He is the author of a chapter in the 1994 book, Assessing Communication Education: A Handbook for Media, Speech, and Theatre Educators, entitled "Regional Accrediting Association Requirements: Developing Outcomes Statements." Allison was a presenter of Assessment Information at several conferences during the 1990's as well as at the National Communication Association's national conventions. 
In 1991, Allison received the Oklahoma Speech Theater Communication Association's "Outstanding Communication Educator in Oklahoma Award." In 1998, he received their "Josh Lee Service Award" for his years of outstanding service to the organization. In 2015, he received OSTCA's "Special Award for His Outstanding Contribution to the Profession." Allison continues to serve as historian on the executive board of OSTCA and served as president in 1994-95. He coordinated OSTCA's "Oklahoma Speech Drama All-State Awards" for high school students from 1994-2010 and was the editor of a directory of communication and theater professors in all Oklahoma universities, colleges, and high schools from 1995-2002.
In 1995, Allison became one of the first faculty members at Cameron to be inducted into the Cameron Alumni Association's Faculty Hall of Fame. He received the Phi Kappa Phi Distinguished Faculty Award in 1989 and the Meritorious Service Award in 2000. In 2012, he received the Lawton Arts and Humanities Council's "Educator in the Humanities Award." Most recently, in February 2016, Cameron University honored Tony Allison during their homecoming with an "Appreciation Award for Dynamic Leadership of Speech and Debate Teams and Two National Championship Titles in 1979 and 1981."