Hall of Fame Member Biographies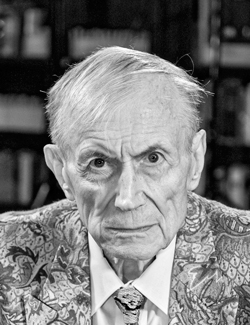 Yevgeny Yevtushenko
As a player upon the world's stage, Yevgeny Yevtushenko has been a tireless voice calling for governments and peoples everywhere to embrace human rights as the basis of a united world. He has published more than 100 books of poetry, which together have been translated into 72 languages, and he has presented lectures and readings to packed halls in 96 countries.
"Zhenya" – as he is known to his friends – was born in 1933 in Siberia – a birthplace that was the result of his grandparents' earlier resistance of an oppressive landlord. The yearning to transcend isolation motivated him strongly and early in life. At the age of 22, Zhenya published the following lines:

"Frontiers are in my way. It is embarrassing
for me not to know Buenos Aires or New York.
I want to walk at will through London
and talk with everyone,
even in broken English.
I want to ride through Paris in the morning
hanging on a bus like a boy."
These prophetic lines served as a manifesto for a generation of Russians eager to break through the Iron Curtain. They also echoed the idealism of his own grandfather, who had once sent the Tsar plans for a tunnel across the Bering Strait to reach those on the other side. Yevtushenko has confessed that his poetry is motivated by only two things: love or shame. His most famous poem, "Babi Yar," appeared in 1961. It recounts the horrors of the Nazi Holocaust while criticizing the Soviet government for its own anti-Semitism. The statement inspired Dmitri Shostakovich to place it and four other Yevtushenko poems as the text for his choral Symphony No. 13. To this day, Yevtushenko's recitation of "Babi Yar" draws capacity crowds throughout the world. Having emerged as a major voice of conscience, Yevtushenko was featured on the cover of Time magazine in 1962; he soon moved in circles with other key figures of his day, including Robert Frost, Pablo Picasso, Federico Fellini, Robert Kennedy, Pablo Neruda and many others.
Yevtushenko arrived in the United States in 1992, and since then he has been teaching courses on Russian Literature and on Russian and European Cinema at The University of Tulsa. More recently, in spite of three difficult surgeries, 2013 has provided Zhenya with three unexpected gifts: (1) The first volume from his sweeping anthology of Russian poetry received "Book of the Year" honors at the international book fair held in Moscow; (2) His new play, There are No Years, was met with thunderous applause at the legendary Taganka Theatre in Moscow; and (3) Yevgeny Yevtushenko, a son of Siberia and Oklahoma, has just been named Poet Laureate of Russia.
All of Zhenya's friends and colleagues at The University of Tulsa are proud that these honors have gone to such a deserving teacher, writer, and world figure – who also has chosen to be an honorary citizen of Tulsa. As one of his colleagues noted, "It is only just that we should honor Yevgeny Yevtushenko by inducting him into the Oklahoma Higher Education Hall of Fame as an adopted son of the Sooner State. After all, he has honored us by adopting us as well."